Truck Parts & Truck Repair - What to Know
---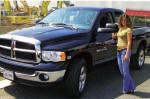 It is important to maintain your truck with regular checkups to keep it in in good working condition. First of all it is important to be able to recognize the tell tale signs of wear on the parts of your truck and to be able to get parts replacements before it gets to be too much damage.

Most people use trucks for heavy duty jobs such as hauling, towing, riding the backwoods, or simply serving as transportation. Invariably, your truck will need its parts replaced, as well as repairs. IF you do not know how to repair your truck, it is a good idea to let a certified mechanic take a good look at it ina "Check-Up" to determine any bad wear and tear on the vehicle.

Minor problems can often be fixed yourself with the right tools and knowledge. Easy tasks like flat tires, oil changes, and broken headlights often do not require professional help and can easily be done under any shade tree using a few tools and some basic automotive knowledge. However, for more serious problems, it is always important to not get in over your head and take your truck to a truck repair shop.
Getting high-quality truck parts and repair services is easy at Aero Truck Parts. We are one of the top truck parts suppliers and retailers on the internet and we are ready to serve if you need a new or used truck part -- ranging from pistons to spark plugs to specialty fenders & foot rails. Come here to order an affordable replacement truck part today!

When to get your truck repaired, pick an experienced truck repair shop. Especially if it is trucks with 4-wheel drive. It is important to get a professional truck mechanic that knows what they are doing. Ask around also to find out who has the top-notch service in the area. In those kind of truck repair shops, you know that your truck is in good hands and it will be up and running like it used to.